For coffee lovers, nothing beats your first cup of piping-hot espresso in the morning, particularly on a bloodless day from autumn to winter. From the first few sips of that caffeine-rich elixir, your physique warms up and you are geared up to face the new day. After working for a while, for a tea lover, drinking milk tea in the afternoon can help you beat the sleepy noon.
Unfortunately, coffee or tea would not continue to be warm even warm. At some point, you are going to attain for that freshly made and it's going to be lukewarm. But matters do not have to be like that! There's a a whole lot higher way, and we promise you will love it.
Arm your self in the battle towards cold, stagnant espresso by using investing in an electric powered espresso mug warmer. To make your buying ride easier, we have rounded up these hints and guidelines for deciding on a correct cup hotter to hold your espresso or tea toasty all season long.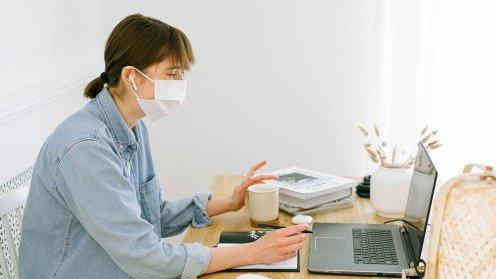 SAFE AND DURABLE
This sublime ceramic mug and hotter set comes with a sleek, aluminum charging plate that makes use of magnetic induction power to warmness up the steel layering on the backside of the espresso mug. It's science! With high-tech substances make the espresso hotter heat-resistant and fire-resistant. The spill-proof layout avoids harm and makes cleaning a breeze. The metal waterprrof panel there, when inadvertently leaking water is not worried, easy to use and easy to clean. 60" lengthy size UL strength twine is greater convenient and safer than different brands. Product-safety warranty with fashionable UL 1026 certification. Back with VOBAG one hundred percent delight service.
EASY TO USE
Besides the cord, the warmer lacks any other buttons or accessories. To operate it, simply touch the rim. With the first touch, you'll turn the warmer on to 145 degrees Fahrenheit. Touch the rim again to lower the temperature to 131 degrees Fahrenheit, the third time would be 104 degrees Fahrenheit. And touch the rim a fourth time to turn the device off. The power light will change color to indicate which setting you've activated. And, for your safety, the warmer will turn off after a few seconds if nothing is on the glass plate.
Also, this cup hotter with an auto shut off characteristic after working 4 hours. After turning off the espresso warmer, the blue mild flashes for a whilst to remind that the heating plate is nonetheless hot.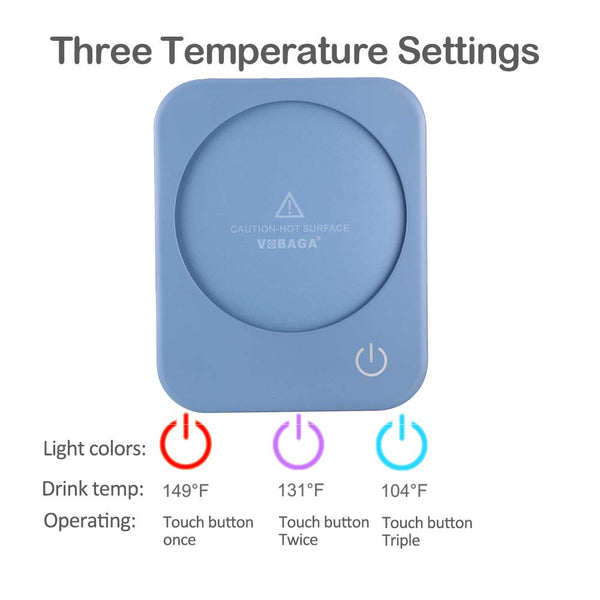 GOOD PRICE
Although you can spend thousands of bucks on a smart mug warmer, you don't have to do it because it only costs you a $25-35 to get a perfect one. The Salton Mug Warmer is a budget-friendly choice for preserving your cup of milk, coffee or tea at a perfect temperature. It's brilliant handy to use. Simply swap the machine on the usage of the toggle on the energy cord, then region your cup on the warmer. It will continue to be at a warm temperature till you swap it off. In addition to coffee, this hotter can additionally be used with candles that you don't choose to mild or to preserve sauces or gravies heat at the dinner table.
SMART AND PERFECT TEMPURATUE SETTING
Unlike competing brands, the Vobaga Coffee Warmer features with a range of mug types, inclusive of metal, glassware, and ceramic. It's additionally notable easy to use. Plug it in and vicinity your espresso cup on top.
Different drinks want distinct temperatures for most fulfilling taste. This high-tech stainless metal espresso hotter points touch-tech controls, a vivid and easy-to-read LED display, and a water resistant warming plate. There are 3-Temperature Settings here. Our electric powered mug hotter can sluggish down the cooling velocity of warm beverage; You can select the temperature by way of touching the "Tempering Button" maintains the liquid temperature to 104℉/40℃ or 131℉/55℃ or 149℉/65℃.
HIGH FASHION LOOK AND 6 COLOR TO CHOOSE
The Vobaga Coffee Mug Warmer is a simple and chic way to keep your drinks warm. The circular warmer comes in different 6 color options. Black, Imitation Wood Grain, blue, pink, green, white.
This hotter is no longer solely fascinating however high-tech, killing two birds with one stone! You can also use it to feed a baby while he/she drinking the milk. Milk bottle does work on this Vobaga cup warmer too.
Beautiful and compact design, keep the beverages warm all day long, it's a great gift for lover, dad, mom, wife, husband, and all your loved ones on Valentine's Day, Thanksgiving and Christmas, and other special occasions to show you care.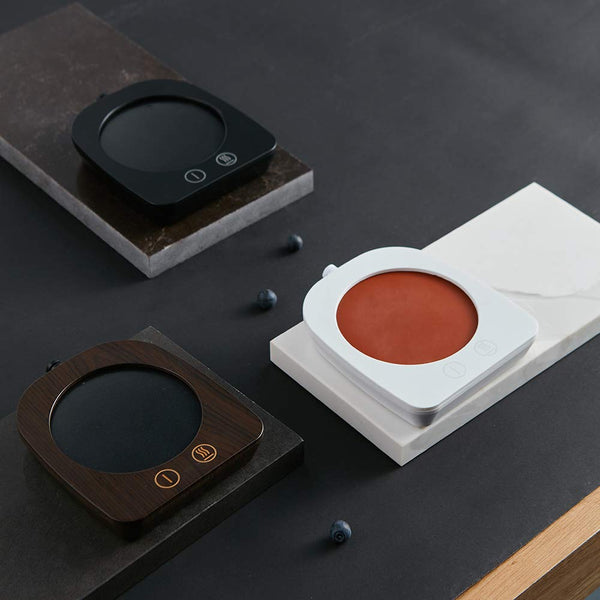 LONG LASTING
If proper product care, it can be used for more than 3-5 years.
BEST CHRISTMAS GIFT CHOICE!
Safe, reliable, and well-reviewed, the Vobaga Coffee Mug Warmer has a lot of advantages, making it the exceptional universal mug hotter on our lists. The stainless metal gadget boasts an LED show for temperature control, and the capability to preserve drinks between 104 and a hundred forty five ranges Fahrenheit. Plus, the covered mug has been designed with thermal conductivity in mind, that means your espresso can be heated the usage of a minimal quantity of energy. Why not buy some for your parents, lover, children, friends as gifts in the coming Xmas?